We've been trained our whole lives to
Despise the word fat
Look for "low fat" options
Belive fat is our enemy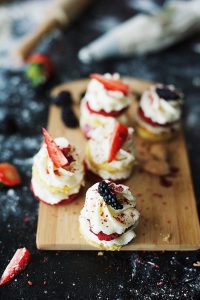 But you and I know better. 
We know that healthy fats 
are essential for reaching ketosis
are needed for energy
help us absorb vitamins
protect the brain and the heart
Sometimes it can be hard to get enough fat each day to keep your macros in the proper proportions for ketosis. 
That's when you should treat yourself to a fat bomb! They're a quick snack with simple ingredients – a staple to most ketoers – and they're really tasty!
What are fat bombs?
Fat bombs are little snacks that are high in healthy fats and low in carbs. They can be sweet or savory. An easy on-the-go breakfast, mid-day snack, pre/post-workout energy boost, or evening treat. 
They're typically made with only a few main ingredients like nut butter, coconut oil, unsweetened chocolate, avocado, or cream cheese. 
Think of them as an energy bar, but instead of oats, fruits, and sugars, they're made up almost entirely of high fat and low carb ingredients! 
How do I make fat bombs?
Simple answer: However you like.
There are so many great recipes online for fat bombs. But some fat bomb recipes "bomb". Experiment with what tastes good to YOU and adjust to fit your taste preferences. Add nuts or spices, switch out almond butter for peanut butter (just watch for added sugar). Some like really sweet while others prefer a hint of sweetness. Make your fat bomb your version of bomb!
To get you started, here are a few tested recipes you should try:
Check out this easy fat bomb brownie by Low Carb Diem touting 17g fat and 4g carbs.
Craving some creamy cheesecake? You can get your fix and still keep it low carb with this delicious cheesecake treat by Layla at GimmeDelicious. 11g fat 1g carbs
Another quick and easy favorite is some keto cookie dough fat bombs from Julia at Savory Tooth. With 9g fat and only 1 carb, you can have two without feeling guilty!
Then there are the savory fat bombs…
Check out this one from The Keto Queens for a cheddar ranch savory fat bomb. These also make great appetizers and are pot luck favorites! Did I mention 8g fat and 0.8g carbs?
For a big boost of fat – 20 grams per serving and only 1 gram of carbs – this recipe for Keto Jalapeno Poppers is the bomb!
Whip up some tasty fat bombs and keep them handy for when you're macros aren't adding up the way you want, or you just need to satisfy a craving. Whatever your fat bomb preference, having keto-friendly teats on hand is always a good idea.